Lakes Coffee, LLC - Our Story
Lakes Coffee is a distribution business located in western Wisconsin. We proudly serve customers throughout Wisconsin and Eastern Minnesota and sell online throughout the United States.
We are a local, family owned business which has evolved through the years. It began back in 1964 as Kwik Kafe and after many years of leading the industry Kwik Café divided into several smaller companies. From this division Hayward Lakes Coffee was born. After many successful years of growing the business, the owners of Hayward Lakes Coffee retired; in 2013 my wife and I bought their business known today as Lakes Coffee, LLC.
Today we have expanded our services and products to better serve our costumers. We not only offer a full array of coffee, coffee syrups, powders and mixes but we distribute disposable paper goods, locally made gourmet treats, sell commercial equipment and much more as we continue to grow.
We thank you for taking the time to consider our products and services. Please give us a call and let us know how we can assist you.
Sincerely,
Dan & Heather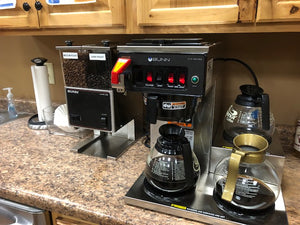 Liquid error (templates/page.about line 2): Error in tag 'section' - 'my_new_rich_text_about' is not a valid section type