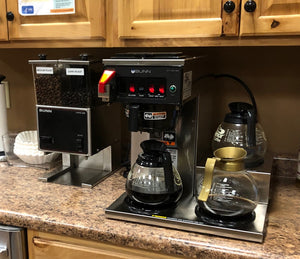 How can Lakes Coffee help you? Traditional fresh ground coffee, or maybe a 10 selection fully automatic bean to cup machine. Offering espresso, hot chocolate, cappuccinos & lattes. We do it all...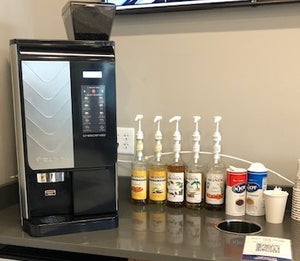 Coffee & Espresso Services
For qualifying accounts within our service area Lakes Coffee will provide, install and maintain the coffee brewing equipment at no cost as long as you agree to use our products in our equipment.
Our customer base is a wide and diversified as our products.
Our Coffee - We currently have 4 local roasters we buy coffee from, which gives us a wide range of coffees. What are you looking for?
Simple and cost effective
A certain roast - light, medium, full city, dark, French, Italian roast
A specific blend or origin of coffee
Flavored coffee - we have over 20 flavors to choose from
Coffee Syrups, Sauces Powders & Mixes - we offer a full line or coffee condiment well beyond just sugar, creamers and cups. We carry many of the brand names including
Big Train - powders and mixes
Holland Sauces - proudly made in Wisconsin
Ghirardelli - sauces and powders
Dr. Smoothie - both 100% crushed fruit & organic
DaVinci - smoothie mixes
Pacific Milk Alternatives - almond, oat, hemp, soy & coconut
Rishi Tea & Iced Tea
Commercial Equipment - at Lakes Coffee we provide, install, sell, service and repair a wide variety of equipment including but not limited too:
Bunn - coffee equipment
Wilbur Curtis - coffee equipment
Espresso Machines including Rancilio, Simonelli, Cimbali, La Spaziale, and more
Mazzer - grinders
Blendtec - commercial blenders
Hoshizaki - ice and water machines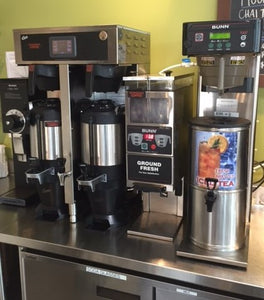 Ready for a change? Lakes Coffee will help you every step of the way.
1. Let us know you're ready for a positive change.
2. We will meet with you to review product, equipment options & develop a plan.
3. When you are ready, let us know and we will work with you to ensure a smooth transition.
Call Today!
Call: 715-977-0120
Email: lakescoffeeinfo@gmail.com